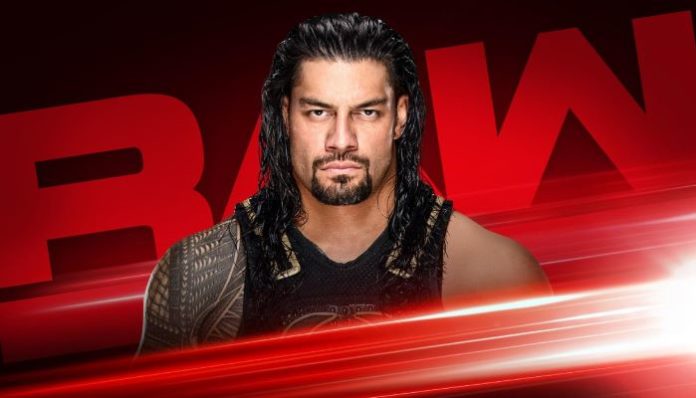 ¿Estará Roman Reigns este lunes en WWE RAW? El luchador ha declarado que quiere estar pero WWE no se lo ha autorizado.
¿Estará Roman Reigns este lunes en WWE RAW?
Roman Reigns fue enviado a SmackDown Live durante el Superstar Shake-Up, pero parece que tiene asuntos pendientes en RAW.
El Big Dog y el resto de la marca azul recientemente tuvieron su show en vivo en Corbin, Kentucky, reprogramado. Esto realmente molestó a algunos fanáticos cuando cambiaron el evento a una fecha de octubre debido a la baja venta de entradas. Sin embargo, ese cambio abrió el lunes en el calendario de Roman Reigns.
Eso lo ha aprovechado Roman Reigns para acudir al twitter y explicar que el lunes estará en WWE RAW
I'm back on #SDLive, but I still have some business on #Raw.
I'll see y'all Monday. #ProtectTheYard

— Roman Reigns (@WWERomanReigns) 4 de mayo de 2019
Big Dog no especificó qué tipo de asuntos pendientes tiene RAW, pero sea lo que sea WWE no le permitirá aparecer en la transmisión de este lunes. Esta es una táctica muy interesante para crear interés en el espectáculo.
WWE emitió una declaración sobre el asunto donde explicaron que el contrato de Roman Reigns era para la marca azul ahora. Por lo tanto, él no estará en RAW.
«Los funcionarios de la WWE se han enterado del deseo de The Big Dog de aparecer en Monday Night Raw, pero a partir de ahora, y debido a sus obligaciones como Smackdown Live Superstar, no aparecerá en Monday Night Raw.»
Tendremos que esperar y ver cómo resulta esto. Obviamente, se están construyendo hacia algo o la cuenta oficial de Twitter de la compañía no habría dicho algo al respecto.
WWE officials have learned of Roman Reigns' desire to appear on Monday Night Raw, but as of now, and due to his obligations as a Smackdown Live Superstar, he will not be appearing on Monday Night Raw. https://t.co/4P0RNPmZB1

— WWE (@WWE) 4 de mayo de 2019