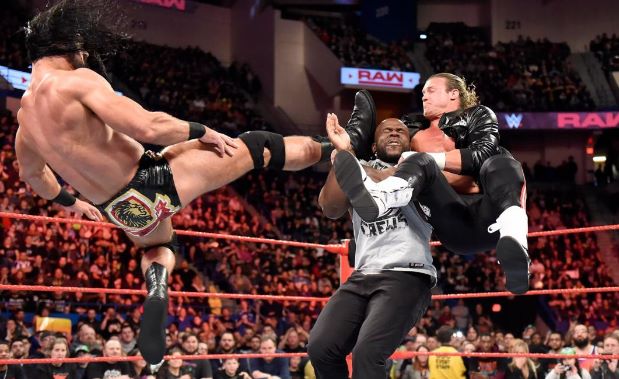 Dolph Ziggler y Natalya llegan a WWE RAW
Dolph Ziggler y Natalya llegan a WWE RAW. Son hasta las fecha los dos últimos fichajes que el Shake Up ha deparado para la marca roja. Dolph Ziggler buscará nuevas oportunidades mientras Natalya sigue buscando añadir títulos a su palmares. Buscará poseer un reinado de las dos marcas. Puedes seguir en directo la cobertura del WWE RAW en Planeta Wrestling.
Los siguientes luchadores han sido seleccionados por el manager general de RAW Kurt Angle para ser las nuevas estrellas de la marca roja.
Campeón de los Estados Unidos de la WWE Jinder Mahal

Jinder perdió el campeonato en su debut en RAW a manos de Jeff Hardy.

Liv Morgan, Sarah Logan y Ruby Riott llegan como The Riott Squad

The Riott Squad debutaron en RAW interrumpiendo el combate entre Bayley y Sasha Banks, atacando a ambas luchadoras.

Kevin Owens y Sami Zayn firman por WWE RAW

Stephanie McMahon los contrató a pesar de las indicaciones de Kurt Angle. Estaban sin trabajo ya que perdieron en Wrestlemania.

The Miz firma por WWE SmackDown Live

Shane McMahon y Paige lo ficharon para Smackdown Live. Gran fichaje para dmacSmack.
Bo Dallas y Curtis Axel se quedan en RAW, separándose The Mizoutrage. ¿Qué harán ahora sin su líder?

Zack Ryder firma por WWE RAW

El luchador lo anunció a través de su cuenta de Twitter ¿Qué objetivos tendrá el luchador?
Tyler Breeze y Fandango firman por WWE RAW

Ambos llegan como Tag Team a la marca roja, anunciando que en el futuro buscarán los campeonatos de parejas como Breezango. ¿Podrán conseguirlo?

Del mismo modo Natalya firma por WWE RAW
Dolph Ziggler firma por WWE RAW
Drew McIntyre también sube al Roster de WWE RAW.
Esto es todo por ahora. Pero la cobertura en directo sigue hasta las 5 de la madrugada hora española.