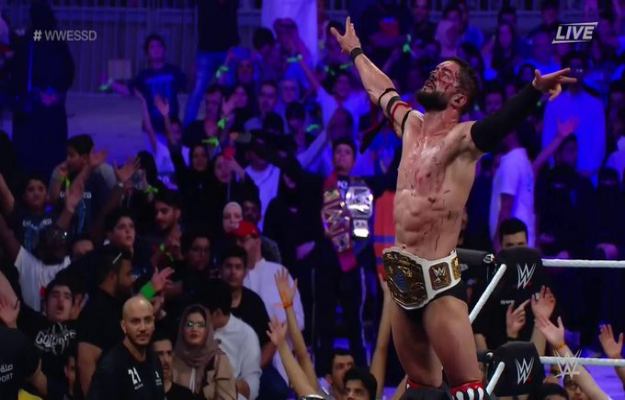 Demon Finn Balor retiene el campeonato Intercontinental en el WWE Super Show Down |En el segundo combate que se está celebrando en estos momentos en Arabia Saudita, «The Demon» Finn Balor derrotó a Andrade en el segundo combate de la noche para así mantener el campeonato Intercontinental.
Planeta Wrestling, la web número uno de WWE en Español te trae la mejor cobertura de Super ShowDown 2019 en vivo y toda la información de última hora del gran show de Arabia Saudita.
Demon Finn Balor retiene el campeonato Intercontinental en el WWE Super Show Down
En un gran combate entre el mexicano Andrade y Finn Balor en el Super Show Down, «the Demon» Finn Balor logró derrotar a Andrade en un brillante combate después de aplicar una tremenda DDT desde el esquinero a Andrade seguido del couple of grace.
Hay que mencionar que Andrade estuvo cerca de obtener el campeonato en varias ocasiones pero «the Demon» Finn Balor se repuso a todo su potencial.
How it feels to stand across the ring from #TheDemon…@FinnBalor @AndradeCienWWE #WWESSD pic.twitter.com/ZUWcFrC917

— WWE (@WWE) June 7, 2019
¿Cómo retuvo el campeonato Finn Balor?
La lucha da inicia y es un intercambio de grande golpes y movimiento dentro del ring, Andrade logra dominar por un momento la lucha, pero Balor se recupera y los aca del ring para luego aplicar una tremenda Bala de Cañon.
El mexicano retoma el control de la lucha, y castiga brutalmente ea Balor, luego aplica su Hammerlock DDT y el conteo solo llega a 2. Balor aplica Power Bomb, seguido de patadas voladoras contra Andrade, impactándolo contra el poste, Balor busca el Coup De Grace, pero Andrade se levanta e intenta Super Plex, pero el irlandés consigue convertirlo en DDT y luego aplicar Coup De Grace para llevare la victoria y retener el cinturón.
No te pierdas la cobertura de Super ShowDown en vivo