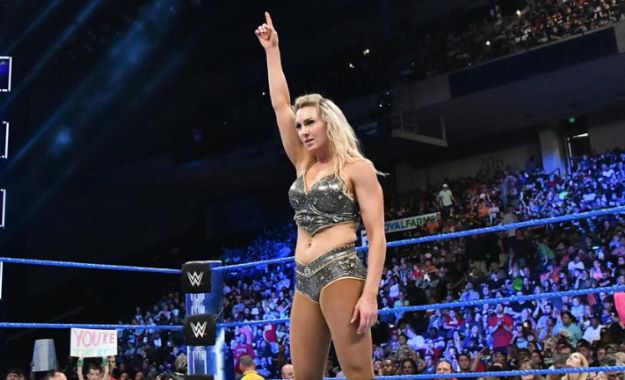 La ex campeona femenina de SmackDown Live Charlotte Flair ha conseguido la oportunidad de entrar al Money in The Bank ladder match femenino tras derrotar a Peyton Royce durante el show de SmackDown Live del 8 de Mayo de 2018.
Charlotte Flair busca recuperar su campeonato
Tras derrotar a Asuka en WWE Wrestlemania 34 y cargarse el invicto más largo de la historia de la WWE nadie pensaba que Carmella podría canjear el maletín del Money in The Bank el Martes siguiente en SmackDown Live. Carmella también retuvo ante todo pronóstico el cinturón en WWE Backlash 2018, aplicando un Roll Up a la ex campeona.
Ahora Charlotte Flair podría devolverle a Carmella el favor del maletín, aunque le queda un largo camino. Primero tendría que superar al resto de luchadoras que también compiten por el maletín y después asegurarse de que su canjeo sea exitoso.
Ember Moon ya clasificada para el Money in The Bank
Durante el episodio de Monday Night RAW del 7 de Mayo Ember Moon consiguió ser la primera luchadora clasificada para el Money in The Bank ladder match femenino. Este combate de escaleras tendrá luchadoras tanto de RAW como de SmackDown Live por lo que la ganadora podrá canjear el maletín por cualquiera de los dos campeonatos femeninos de la compañía.
Si una luchadora consiguiera mediente canjeo del maletín el campeonato de la marca contraria esa luchadora pasaría a ser automáticamente miembro del roster de la marca dueña del campeonato.
MITB Qualifying Match: Charlotte Flair vs. Peyton Royce
Así fue el combate clasificatorio para el MITB femenino.
Primer combate de clasificación para el MITB femenino de Smackdown y que acabaría con la victoria de la reina Charlotte después de derrotar a Peyton Royce con la fiugra de ocho. Durante el encuentro Billie Kay intentó ayudar a Peyton Royce pero no fue suficiente para poder doblegar a una Charlotte Flair enfocada en la victoria.