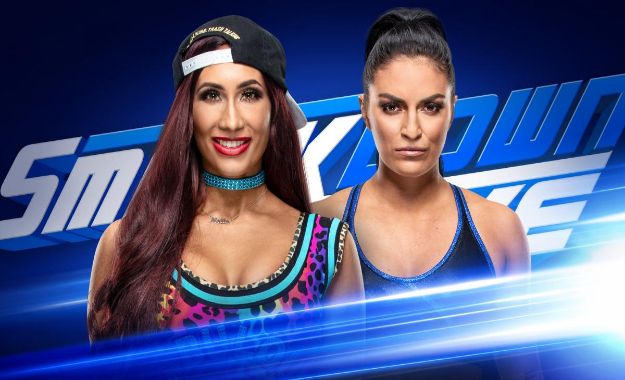 WWE ha anunciado hace escasos minutos, que Carmella se enfrentará a Sonya Deville el próximo martes 15 de enero en WWE Smackdown Live.
Carmella vs Sonya Deville oficial para WWE Smackdown Live el martes
Con Sonya Deville, utilizando repetidamente las redes sociales para opinar que Carmella está continuamente obteniendo oportunidades que no merece, la Princesa de Staten Island respondió y luego desafió rápidamente a Deville a un combate.
The fact that THIS is what took my spot in the triple threat match last week AND is gonna take up some more wasted space in the rumble 🤔 #WHOLEMOOD https://t.co/LXUCKDDswL

— Daria Berenato (@SonyaDevilleWWE) 12 de enero de 2019
Man I'm sorry I just ain't gettin beat out by a dance break 🙈 #embarrassing https://t.co/H0JDkMYLie

— Daria Berenato (@SonyaDevilleWWE) 12 de enero de 2019
Hey, Rosebud, let me just spit some facts right quick:

1st Ms MITB
Longest MITB holder
1st woman to cash in successfully
Champion for 130 days
Beat Charlotte 2x
Beat Asuka 2x
Putting smiles on kids faces by allowing them to join our dance break

How long was your title reign? 🧐 https://t.co/n3frfZ8May

— MELLA I$ MONEY (@CarmellaWWE) 12 de enero de 2019
¿Deville respaldará sus audaces palabras, o pronto será callada por el Código de Silencio de Carmella?
Rey Mysterio vs Andrade Cien Almas el martes en WWE Smackdown Live
Rey Mysterio y Andrade «Cien» Almas han puesto WWE patas arriba en sus anteriores encuentros, y las dos Superestrellas están preparadas para hacerlo de nuevo.
Las batallas anteriores de Mysterio y Almas incluyen un combate individual el pasado 6 de noviembre y una pelea por parejas la semana pasada, y las dos superestrellas dinámicas han producido clásicos instantáneos cada vez, con el Universo WWE elogiándolos por su increíble atletismo.
Será esta vez la definitiva en la rivalidad entre Rey y Cien Almas o ¿esta rivalidad irá todavía en aumento a medida que pasen sus enfrentamientos?