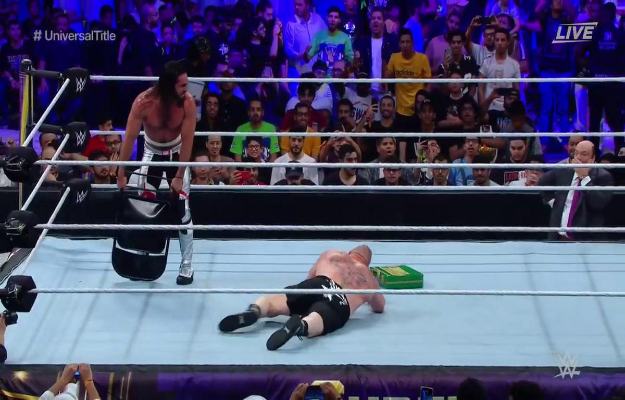 Brock Lesnar intenta el canjeo en Super ShowDown
Brock Lesnar llegó a Super ShowDown con la intención de canjear el Money in The Bank, pero Seth Rollins estuvo atento e impidió el canjeo.
La Bestia pensaba salir como campeón Universal de Arabia, aunque tiene que estar satisfecho porque no ha perdido su maletín. El árbitro todavía no había ordenado sonar la campana, por lo que el combate nunca llegó a hacerse efectivo y Lesnar no perdió el maletín.
Lesnar no ha gastado todas sus balas, ya que también podría canjear el maletín ante Kofi Kingston después de su combate ante Dolph Ziggler por el campeonato de la WWE.
Brock Lesnar aprovechó el ataque de Baron Corbin a Seth Rollins
Seth Rollins se lleva la victoria de la lucha, luego de vencer a Baron Corbin con una cobertura sorpresiva, reteniendo el campeonato Universal. En los momentos destacados de la lucha, tuvimos el doble tope suicida del campeón Universal, lanzándose seguido de dos de los lados del ring. En los momentos finales de la lucha, Corbin discutió con el arbitro de la WWE, lo cual lo distrajo y causo su derrota.
Luego de la lucha Baron Corbin regreso al ring, para atacar a Seth Rollins con el End Of Days, y seguido de esto suena la música de Brock Lesnar, quién llega con una silla en mano, un arbitro y su maletín para reclamar su oportunidad.
You have to admire the HEART and FIGHT of Universal Champion @WWERollins as he defends his gold against @BaronCorbinWWE at #WWESSD! pic.twitter.com/CAH8dpIK5o

— WWE (@WWE) June 7, 2019
Rollins logra reaccionar a tiempo y le da un golpe bajo a Lesnar, para seguido de esto golpearlo con la silla que Lesnar trajo consigo. Al final Seth aplica Curbs Stomp, para luego abandonar el ring contento de haber frustrado el canjeo de la Bestia en el Banco.
No 🛎 = No cash-in.@WWERollins is still your #UniversalChampion… but @BrockLesnar is still #BeastInTheBank! #WWESSD pic.twitter.com/um3WZsfie8

— WWE (@WWE) June 7, 2019
No te pierdas la cobertura de SSD en vivo