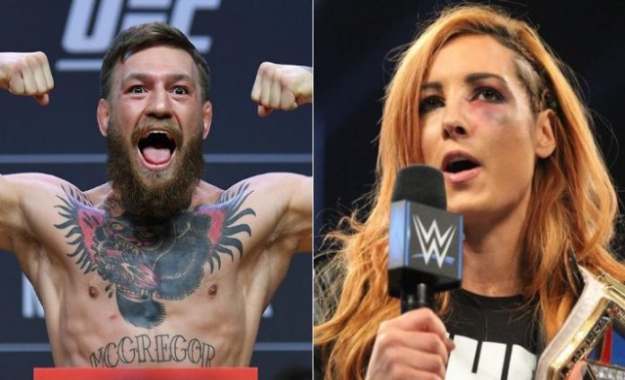 Becky Lynch responde a la oferta de Conor McGregor
Como se mencionó, la campeona femenina de SmackDown, Becky Lynch, tuvo un intercambio de Twitter con la estrella de UFC Conor McGregor esta semana después de que ella respondiera a un artículo sobre cómo había canalizado a su McGregor interior.
El tweet original de Lynch tomó un tiro amistoso a la estrella de MMA. Él respondió con una oferta para darle un poco de respaldo, que parece que se duplicó como un complemento para su marca de whisky Proper Twelve. Lynch respondió al tweet de Conor y mencionó que actualmente tiene dos divisiones.
McGregor llegó a los titulares de la lucha libre profesional en 2016 y 2017 en medio de rumores sobre un posible acuerdo con WWE. Los rumores comenzaron después de que McGregor llamó WWE Superstars «dweebs» durante una entrevista. Triple H habló con The Telegraph en el Reino Unido el año pasado y habló sobre la posibilidad de trabajar con Conor.
«Él [McGregor] podría venir, lo tiene todo, hombre, tiene la personalidad, las habilidades, la conversación. Es un artista, sin duda», dijo Triple H a The Telegraph. «¿Por qué anda por ahí? ¿180 libras? Tengo chicos más pequeños ahora en la WWE. Tenemos 200 libras que son estrellas. Ya no es necesario que pesen 300 libras. Podría hacerlo tan bien como Floyd Mayweather cuando peleó. Big Show. Eso realmente funcionó. Conor podía hacerlo con seguridad «.
A continuación les mostraremos todos los tweets de Becky con McGregor.
The Man channels no one. @TheNotoriousMMA & me are bonded as Irish brother & sister. But if I ever got within 2 miles of him I'd break that bond, and his arm, in three short seconds. 😂 I'd be too tempting; he'd completely understand too. Proper12 after.
https://t.co/GNAytrkJ7n

— The Man (@BeckyLynchWWE) November 22, 2018
«El hombre no canaliza a nadie. @TheNotoriousMMA y yo estamos Unidos como hermanos y hermanas irlandeses. Pero si alguna vez llegué a menos de 3 km de él rompería ese lazo, y su brazo, en tres cortos segundos. Sería 😂 demasiado tentador; él también lo entendería por completo. Proper12 después.»
Call me when you need Proper back up.

— Conor McGregor (@TheNotoriousMMA) November 22, 2018
«Llámame cuando necesites una copia de respaldo adecuada.»
Cheers, Conor. I'm carrying two divisions at the moment, but you know exactly how that is. I hear New York is nice in the spring, though. 🇮🇪 https://t.co/51VSVCCG28

— The Man (@BeckyLynchWWE) November 22, 2018
«Salud, Conor. Estoy cargando dos divisiones en este momento, pero sabes exactamente cómo es. He oído que Nueva York es agradable en la primavera, sin embargo»