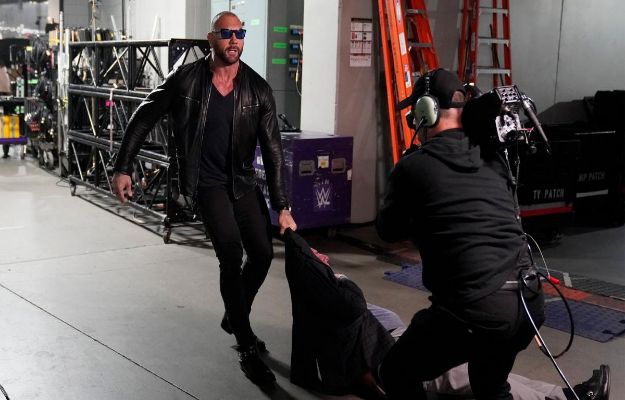 Batista regresa a WWE RAW. Tal y como vimos ayer, Batista hizo su regreso en WWE RAW para atacar a Ric Flair en el vestuario antes de su fiesta de cumpleaños.
 Batista regresa a WWE RAW
La estrella de WWE, Dave Batista, llamó a Triple H después de que atacara a Ric Flair al final de Monday Night Raw.
Este ataque se produce meses después de que Triple H y Batista mostraran hostilidad entre ellos y surgieran rumores de que los dos tendrían un combate en Wrestlemania.
El segmento final de Raw fue la celebración del 70 cumpleaños de Flair organizada por Triple H y Stephanie McMahon.
Triple H invitó a varios colegas y ex oponentes de "The Nature Boy" antes de invitarlo al ring. Después de que Flair no se presentó, una cámara en el backstage reveló que Batista había regresado y había agredido a su antiguo mentor.
WHAT THE?? Batista has appeared and attacked @RicFlairNatrBoy in a demand for @TripleH's attention on #Raw! @DaveBautista pic.twitter.com/NKzISy4fJ3

— WWE (@WWE) 26 de febrero de 2019

Algo inesperado para el WWE RAW de esta noche
Muchos fans esperaban que Charlotte Flair y Becky Lynch aparecieran en el segmento para avanzar hacia su combate en WrestleMania, pero este segmento se centró en la pelea que pronto se confirmará entre "El asesino cerebral" y "El animal".
La tensión entre Triple H y Batista fue provocada en SmackDown 1000 cuando Ric y Randy Orton reunieron al legendario grupo y reflexionaron sobre sus carreras.
Batista terminaría su discurso diciendo que Triple H ha hecho todo, excepto derrotar al ex campeón del mundo antes de que acabase el segmento.
La historia se produce años después de que Batista manifestó abiertamente su deseo de enfrentar a Triple H en WrestleMania nuevamente.
Triple H y la rivalidad con Batista en 2005 establecieron a "The Animal" como una superestrella del evento principal cuando derrotó al ex campeón mundial de peso pesado en tres combates seguidos, comenzando en WrestleMania 21.
Batista abandonó el área del backstage antes de que Triple H tuviera la oportunidad de enfrentarlo, así que espera que los ex compañeros de equipo se crucen a medida que avanza el Camino a WrestleMania.
La última vez que "The Animal" habló sobre la lucha contra Triple H fue para un combate de retiro, por lo que esta podría ser su última presentación en el Grandest Stage of Them All.