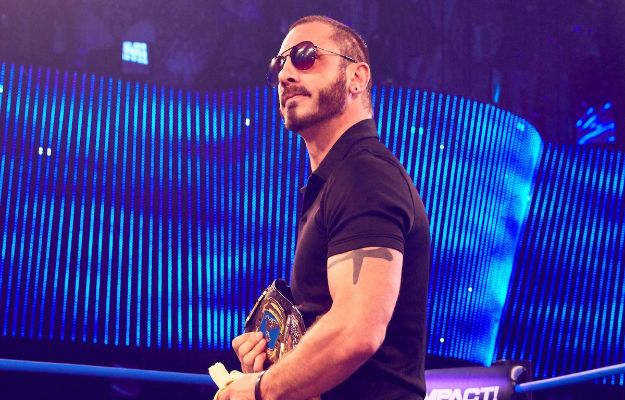 Austin Aries firma contrato con MLW. El luchador fue presentado ayer en un vídeo promocional durante la emisión del programa semanal.
Austin Aries firma contrato con MLW
El autoproclamado «El hombre más grande que jamás haya vivido» llegará a MLW.
Durante la transmisión de MLW Fusion de ayer por la noche, se emitió un video promocional que señala que el ex campeón mundial IMPACT, Austin Aries, llegará pronto a la Major League Wrestling. No se proporcionaron más detalles acerca de cuándo Aries se mostrará en la promoción, pero la leyenda del tweet dice: «Dejaremos que el gráfico hable por sí mismo».
🚨 BREAKING NEWS!!! 🚨

We'll just let the graphic below speak for itself … #MLWFusion on @beINSPORTSUSA pic.twitter.com/AxfOP3SvGb

— Major League Wrestling (@MLW) 12 de mayo de 2019

Según Cagematch.net, la última vez que Austin Aries luchó fue en marzo por Warrior Wrestling contra la estrella de IMPACT Wrestling Eddie Edwards. Austin Aries apareció en las noticias en otoño de 2018 después de que «polémicamente» abandonara el evento sin vender nada, luego de que Johnny Impact lo derrotara por el título mundial IMPACT en «Bound For Glory».
Austin Aries "No Sold" Starship Pain and walked off giving Don Callis a fuck you as we Crown a new #ImpactWrestling World Champ #BoundForGlory pic.twitter.com/z6WijXZhLX

— Jerry (@JDfromNY206) 15 de octubre de 2018

Austin Aries un luchador tan bueno como polémico tendrá una nueva posibilidad de presentarse ante la televisión nacional de Estados Unidos a través de MLW. Aries ha sido campeón de los pesos pesados de Ring of Honor, Impact Wrestling y en WWE llegó a ser el campeón del peso crucero antes de que también abandonara la empresa descontento con el trato que recibía.
Veremos que ocurre ahora con Aries en MLW y cual podría ser el primer rival del luchador en esta nueva aventura en la empresa.