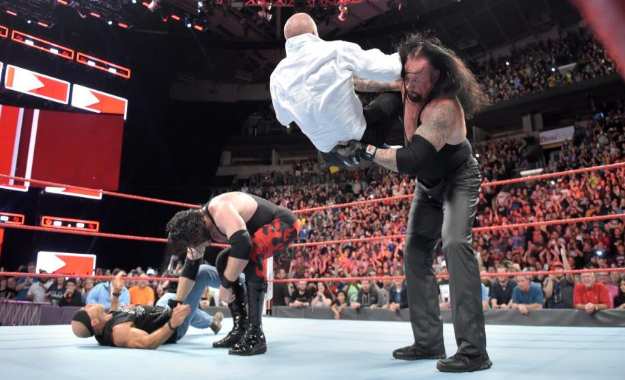 Audiencia de WWE RAW del 1 de Octubre
Audiencia de WWE RAW del 1 de Octubre | Por segunda semana consecutiva, y la tercera vez en el 2018, WWE Raw ha conseguido las calificaciones de audiencia más bajas en la ilustre historia del programa. ShowBuzz Daily reveló las cifras para el evento de esta semana, con 2.302 millones de espectadores observando durante las tres horas. A pesar de la caída general en la audiencia, RAW vio un aumento en las horas individuales con la primera y la segunda hora del programa en comparación con la semana pasada.
Cabe destacar que cuando la cantidad de espectadores está en descenso, WWE es famosa por enseñar sus luchadores más importantes para intentar cambiar el rumbo y el espectáculo de esta semana no fue la excepción. The Undertaker, Kane, Triple H y Shawn Michaels tuvieron un altercado en el segmento del main event de la noche antes de la reunión de The Phenom, Triple H y The Game, The Undertaker, en Super Show-Down en Australia el sábado.
La cantidad de espectadores descendió a lo largo de las tres horas y la tercera hora fue la hora menos vista del espectáculo en más de 20 años, incluso cuando pasaron el episodio prometiendo un segmento de Shawn Michaels.
La calificación real no está disponible, pero se espera que sea la segunda calificación de la noche del lunes más baja para la lucha en la red televisiva de Estados Unidos.
WWE RAW perdió con todo en las redes, excepto CW y Raw fue 16 ° por día en cable, lo más bajo que ha hecho en años.
Aún así, solo perdió por cuatro programas en ESPN, todos los juegos relacionados con el fútbol, ​​béisbol en la tarde y programas de noticias en Fox News y MSNBC.
La cantidad de espectadores durante las tres horas fueron:
Primera hora: 2.50 millones de espectadores,
Segunda hora: 2.33 millones de espectadores.
Tercera hora: 2.08 millones de espectadores.